Astrology and Tarot - Welcome and thank you for visiting!
At the moment we experience very rare planetary positions which release enormous amounts of electrical particles - waves of energy - pertaining deep wisdom about who we are and not least why we due to our soul contract have chosen to come or return to Earth at this specific time in history. As we are electrical beings it is possible for us to have direct communication with electrical beings on other planets in the universe through exchange of these particles in our astral body. My readings are based on your astrological birth chart to find out exactly the position of the planets in the sky when you were born. Then I shuffle my Tarot de Marseille cards while asking the questions you wish an answer to or simply just asking for inspiration and guidance at this point in your life. This will hopefully give you an impression of your soul's mission here on Earth, what to focus on and what to let go of.

Please mail me for more information and prices as these can vary in relation to how long a reading you wish for and to what you specifically wish to know more about. After completing a reading I will record it and either send it or mail it to you in accordance to which you prefer.

Hope you will join me for a new set-up of frequent card readings from the animal kingdom, fairies' world, tarot wisdom, and astral realm here on my website! Stay tuned for readings that I share for the only purpose to assist YOU on your own personal journey and support your own healing abilities to create a balanced happy life! There is a reason for everything.

For more inspiration on astrology please go to my YouTube channel. For more information coming through from the Tarot and Fairies' Oracle, please look below or go to my YouTube channel. Thank you for joining me!

Love to all !



TAROT DE MARSEILLE CARD READING/ Mixed Energies Coming Through Holding New Truths / October 7th 2020: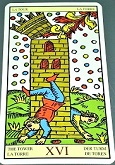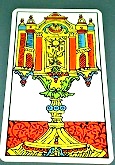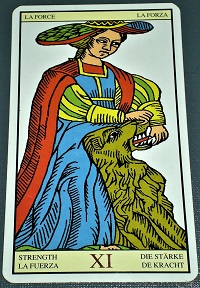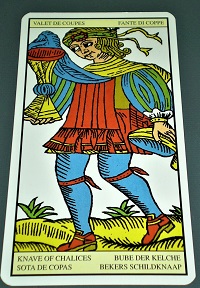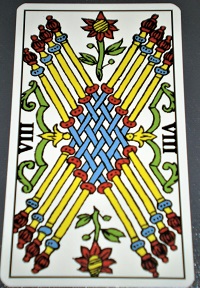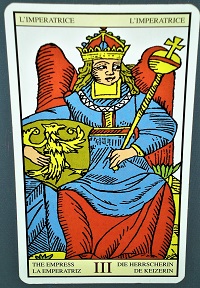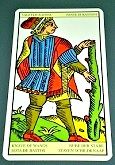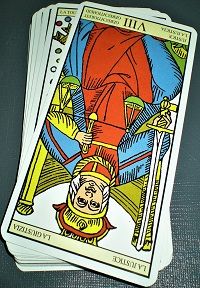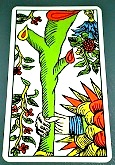 The first card to show up is the major arcana card The Tower along with ace of chalices from the minor arcana's letting us know that we are being thrown out of old convictions, traditions, conventional living and understanding within our emotional and spiritual body – beginning a new journey in this realm. Maybe we have had certain kind of feelings of abundance, satisfaction, and perhaps even happiness in specific areas of our life that just no longer is the true picture of our emotional inner world. It is as if we are being asked "are you REALLY satisfied and happy with where you are? Or could there be something greater and deeper waiting for you to be explored?". With The Strength card showing up next with both knave of chalices and eight of wands we can rest assured that we WILL see more courage, self-mastery, and of course strength arriving from our emotional and spiritual body into our physical body, our relationships, and our creativity/passion in life. In particular, knave of chalices speaks of love messages coming through, and a sense of collaboration between the two bodies within ourselves and on the outer plane between us and others that holds a fresh new energy for us. We might feel new purchases, expectations, planning, and a kind of re-programming on a deeper level within us happening in alignment with our eternal flame, our original divine spark from Source, God, etc. So, we may begin to feel changes more physically than ever before, being a very tangible signal that we are in fact in dialogue with other existences/entities around us in the universe and beyond – as we are all One. Turning to the next cards we meet The Empress and knave of wands, telling us about news from either afar or unexpected showing up through our physical bodies/our fire within, our relationships, and what we consider to be our true passion/creative side in life. The Empress is representative of a clearsighted, fertile, abundant energy also bringing us the abilities to actually DO something concrete about things. There will be some kind of "clearing up" in this area of life, perhaps even some "aha" and "oh, NOW we understand" – moments. To sum up what is pivotal for us at this specific time on Earth we will have a look at the bottom cards from each deck – and from the major arcana's we have The Justice card in reverse along with ace of wands from the minor arcana's. Yes, this is certainly a confirmation that overall, we will be experiencing injustice, imbalances, prejudices, something which NEEDS to show itself to karmically set things straight in our world. Most definitely we will see a whole new path/beginning of discoveries and inventions of both what we would call good or bad information, truths, etc. – the world may seem to be falling apart and yet, at the same time we see small signs of the opposite – we must hold that branch of our divine inner light/fire/ flame as high as we can, standing as straight as possible to keep the balance. I would like to add to The Justice card that we are in Libra season (astrologically) which is ALL about balances, keeping the divine hierarchical order in our relationship with ourselves and with others as Libra is the energy of the seventh house of relationships in general. Just remember that there is always a lot of support and assistance from the astral realm for us to take in at ANY given time to find the courage within our emotions, and to project this energy further into our physical body – with no regard as to what may be happening in the disturbing world/environment around us.
To accompany all of us on our present divine path, I recommend to tune in to this piece of music Leonard Cohen - Tower of Song.

Remember that my readings are focusing on us as human beings in general in the world, and so it will not necessarily resonate with your personal journey in details. However, you may find that there are areas of your life where the information will feel just right for you. Please feel free to contact me if you have any questions about your own life journey in particular. I would love to hear from you, doing my best to assist you with a starting point in the astrology - to find out more about your natal chart, please go to Astro Dienst.


⛧ ASTRO – TAROT CARD READING/ Guidance from the astral realm; the Star People/ October 8th 2020:
(If you would like to know more about the Star People, whom we are interconnecting with through our higher-self as we are all One, please tune in to my YouTube channel and some of my first videos – you will find more info there).




From the astrology deck we have the universal energy of the zodiac sign of Aries turning up along with the planet Chiron – Aries being the first sign of the Zodiac and also being a cardinal sign that initiates, moves fast with no looking back, being sort of the kick-starter of things, referring to the brain/pineal gland and to the Self; and Chiron being the planet of healing, empathy, teaching/learning new abilities. Currently, Chiron is actually situated in Aries and so, now is the right time for us to heal on a deeper level within our mental body, healing our Self. Clearing out old energies and patterns that no longer resonate with who we are NOW, or what we are evolving into becoming. A new beginning is initiated here, Aries being the first sign of the Zodiac as previous mentioned, indicating that an old cycle has been completed so that a new one can begin. That new beginning is all about using our instincts (and psychic abilities which is the energy of the higher vibration of Aries) on a deeper, more considerate and empathic level – Aries is a masculine fast forward moving energy, but is now learning how to soften this somewhat patriarchal characteristic and to merge with the feminine aspect in the energies of the Earth. This card combination also encourages us to consider and go within; to take the energy of the outer action and transform it into a journey of going inwards in the attempt of trying to figure out, in our mental body, what to teach/learn in whatever area of life it may be for us on an individual level. As Chiron entered into Aries in 2019 and will continue its direct and retrograde movements here until 2026, this could be a time frame indicator for doing this inner work.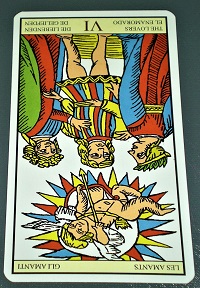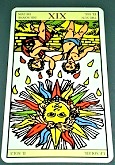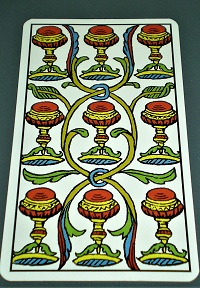 Let us move on with some tarot cards to see which details we can get from this. From the deck we meet The Lovers in reverse talking about hard times and confusion in choosing our path/destiny/oath along with The Sun likewise in reverse talking about disharmony/deceitfulness/lack of clarity. Together with these two major arcana cards we have nine of chalices coming out from the minor arcana cards to remind us that these energies are showing up in our emotions, sensitivity, spirituality and in our psychic abilities telling us that we have a hard time figuring out how to find our virtue and true affections. We need to make time for going inwards and REALLY have a closer look at the important choices in life – are we living in the place we REALLY wish for and dream about? Do we hold the kind of job that REALLY fulfills our soul journey in life? etc., etc. Before any movement can take place in our outer world and the environment around us, we need to initiate a movement in the inner realm. These cards show us that at this moment we are not 100% attuned to our true mission in life – nine of chalices referring to the water signs of the Zodiac (Cancer/Scorpio/Pisces) and the feminine aspect – and so we need to change our mindset to also include regards for the female and emotional side of life. I feel that the pictures of the major arcana's are also indicating opponent energies like the ego vs. the higher-self, tradition vs. liberation, our inner world vs. the outer world (please continue with whatever comes to your mind here to give you an indication of where YOU perhaps need to focus in your personal life). The yin and yang energies begin their joined dance right here, right now. This dance between very radically different energies/life areas needs to have its place now in order for a more cosmic energetic balance to rise to the surface – out of chaos comes cosmos.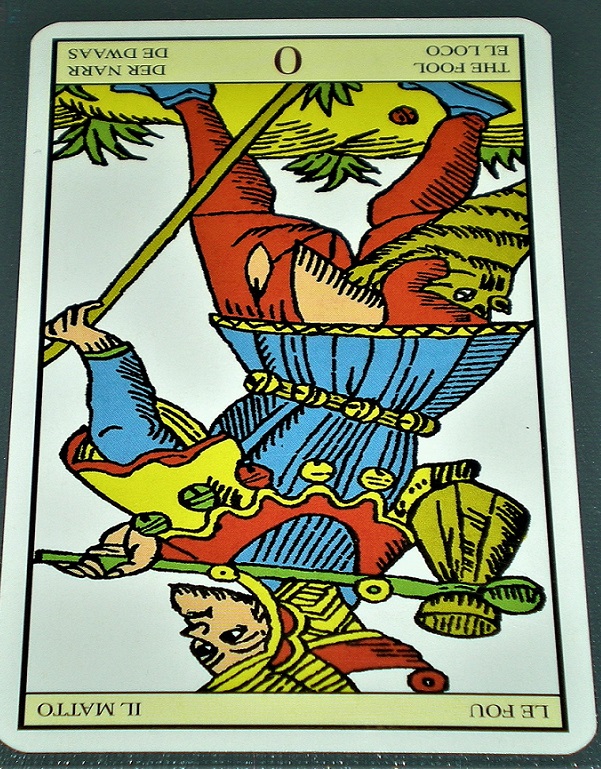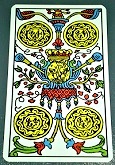 To sum up what is in store for us at the moment in general, we will have a look at the bottom of each card deck. From the major arcana card deck we find The Fool, coming out with four of pentacles from the minor arcana's. This is showing up to prepare us for lies, quackery and incorrect judgement showing up in our reality. Again, with four of pentacles coming in here, we have another female aspect this time referring to the earth signs of the zodiac (Taurus/Virgo/Capricorn) – being in Libra season which is all about relationships, balance, karmic outlining we cannot get away from the fact that outbreaks of such lies, incorrect judgement, etc. of lesser or greater extent, are necessary to get to the bottom of things if we are to keep the hierarchical energetic order of Cosmos. Our so far stable and rock-solid reality will change and in a very expansive way. In our financial situation, our work life, our home, our physical everyday life surroundings. The good thing here is that with lies like these reaching the surface, we have the opportunity to become wiser and smarter in our decision-making. Something that has been of a latent character to us will eventually show up in our 3D life (that will rise into higher frequencies of 4th, 5th, 6th...D which we will adjust to over time as well) as something REAL and TANGIBLE. Then we can begin to re-think, re-do, etc. A lot is going on in the world at the moment, we are in healing mode that cannot be disregarded IF we wish for true and solid future change.
To encourage us all on this extremely emotional and spiritually challenging path, I found this incredibly loving piece of music John Lennon - Imagine.

If you have any questions about any of the issues in this reading, feel free to contact me. I am trying to offer quick readings, as my readings would be too long if I had to move into every detail. Thank you for joining, stay inspired and keep inspiring each other – we are in intriguing times! Share your empathy and shine your inner loving light! Love is ALWAYS needed...and so are YOU.

Love to all !
Decks used: Astrology Cards by Alison Chester-Lambert/ Richard Crookes; Tarot de Marseille by Lo Scarabeo

🎇MORE ASTROLOGY AND TAROT CARD READINGS:

2020
Due to some technical issues it is not possible for me to upload my videos at the moment. Please go to the readings above!
Practical Astrology*Gemini* ¤ How to Invoke Your Intuition to Become a Creative Power in Your Life ¤
Original Tarot de Marseille Card Reading * Ancient Egyptians*
Practical Astrology*Taurus* ¤ How to Invoke Your Intuition to Become a Creative Power in Your Life ¤
Sphinx of Giza Ω Reset of All Times ∆ Reading and Channeling ∆ *Lightworkers/Star Seed Love Children*
Practical Astrology*Aries* ¤ How to Invoke Your Intuition to Become a Creative Power in Your Life ¤
Star People Message * Energies of Native Chief White Hawk * ¤ Lunar Nodes May 2020 ¤ / May
Pick an Item ¤ What's your Question?
Star People Message * Twelfth House and Sun Energy* / March
2019
December 16 - 29
December 02 - 15
November 18 - December 01
November 04 - 17
...for more videos on astrology💫 and Tarot de Marseille card readings, please go to my YouTube channel.




***💖💕 MESSAGES FROM PASSED ON LOVED ONES, PERSONAL SPIRIT GUIDES, SPIRIT MASTERS, or whom or what you may regard as your personal guidance coming in through your higher-self moving your consciousness to connect with the electrical impulses coming from our solar system, galaxy, universe, cosmos. Let the cards speak to you just as they are, hopefully providing you with answers to your questions or inspiration on how to work deeper with yourself and on certain aspects of your life. Cards pulled on October 11th (a masternumber day) 2020 if this date holds any specific meaning to you...(please note that the first card also showed up as the first card in the last pull, the message of this card is coming through very strongly)...Enjoy! Loving blessings to you! 💕💖***

Love to all !
Decks used: Messages from Heaven by Jacky Newcomb; Divine Directions by Jade-Sky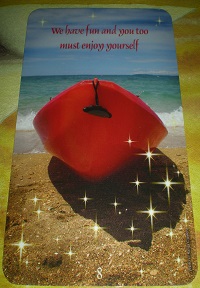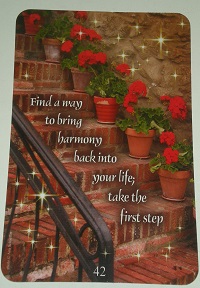 We have fun and you too must enjoy yourself/ Find a way to bring harmony back into your life; take the first step.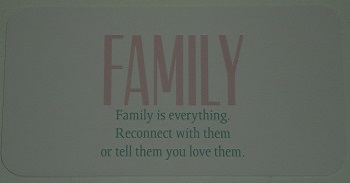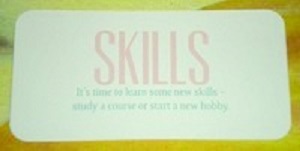 Family is everything. Reconnect with them or tell them you love them/ It's time to learn some new skills - study a course or start a new hobby.



🔮 YOUR SPIRITUAL PATH AHEAD – WHERE IS IT LEADING YOU? : 🌅

These cards are pulled on October 20th 2020, so if this specific date/time of year holds any personal meaning to you please add that to the messages coming through as well. As always, my readings are meant as an inspiration for you to begin to tap into your intuition as a tool to improve your life circumstances if that is what you need. Whatever may come through to you when looking at the cards and their colours, numbers, text, etc. please do not count that out, but gently receive what is coming with an open mind, holding no judgement. Hope you find the answers you seek at this time in your life. Enjoy and many blessings to you - wishing you the best of courage wherever you are in the world in these changing times!

Love to all !
Decks used: Personal Destiny's Oracle by HerLanguage; Nature's Destiny Oracle by HerLanguage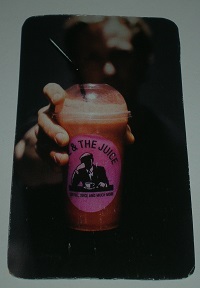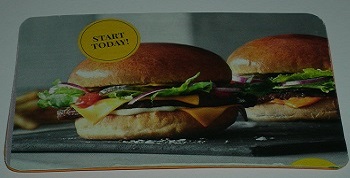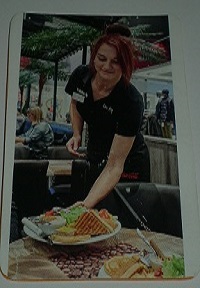 At this point in your spiritual development you are guided to *STAY JUICY* (the first card out) – talking about volcanic intake, flow, rush, increase. In that process it is important that you stay present in the here-and-now moment which is what the next card *EXACTLY* is all about. This card also talks about nutrition; how and what you feed yourself with…that be of mental, physical, energetic, soul-like, etc. character. It's reminding you of what you say "yes" and "no" to and how you are perhaps mixing things together from these different life areas. Like it says on the card "Start today", you may want to begin as soon as possible to consider this, even if it is just taking small steps. Everything you choose to do counts. BE PRESENT and you will find a healthy solution of how to joggle everything that is going on. This card came out along with *IT'S ALL YOURS* card which like wise shows a picture of food. It's referring to a healing comeback in which you are claiming back your power; you are opening up to the world around you (once again) with a friendly attitude that allows you to take in the presents and offers now coming your way; you are working from a very honest degree of conscience based on your knowing of where you have been in your life, who you are now or becoming, and where to go next/what to do with all your acquired experience.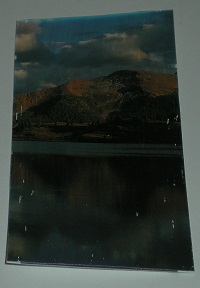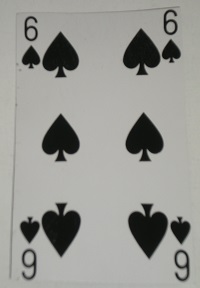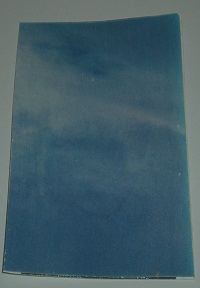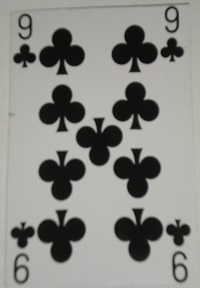 Let us move on to the next cards to look for more information and details. Here we find Six of Spades (Six of Wands in the Tarot) and Nine of Clover (Nine of Pentacles in the Tarot). Six of Spades is holding up a beautiful picture in front of us – still clear water, big forest mountain and (almost!) blue skies. The Spades are referring to autumn season which we are in right now in the northern hemisphere, so maybe something is outdated in your life and needs to be let go off or deeply changed for new beginnings to come in however this may resonate with your particular personal situation. Six of Spades is also letting us know that there are new mountains, challenges, obstacles, etc. to be climbed and dealt with. Through the element of water that is very present in the picture I feel you are guided to keep your emotions and emotional impulses still and quiet as you are meeting whatever it might be at this moment in your life (as water is symbolizing the emotional/spiritual realm). However, please remember that Spades are about your physical appearance in relation to your body, relationships, and whatever you hold as a creative hobby/ your way of being creative in life. On the picture of the Nine of Clover card we see a totally blue sky assuring you that whatever the challenge, you WILL see things clear up for he better and will affect your material surroundings – accommodation, job, money, etc. - in a very prosperous and beneficial way. If you deal with what is going on with the Six of Spades energies in your life, you are guaranteed projects and income of a long-term character in your material life. Just keep the juicy fruitful abundant energy going – enjoy what all of a sudden may show up. Cease the moment and care for what this intake you are experiencing do to you knowing that everything is coming together, being served/handed directly to you – and make the most of all you are being given in order to create a brand new outcome once you have climbed that mountain standing in a new position where only the sky is the limit! Be proud, grateful, and…keep going! You are meant to face this new rewarding challenge in your life!
If you are in need of some extra motivation at this moment to climb that mountain, please find it here…and maybe get up and move your feet! Enjoy! 🎶 👣👣 🎶




🌍FAIRIES' ORACLE INTUITIVE TIMELESS CARD READING:🌏

The cards below are pulled on the October 16th New Moon/Libra 2020. So, if this particular date/time holds any personal meaning to you, please add it to the fairy messages as well. Like wise, the numbers and colours on the cards might hold personal meanings to you. If so, please take in the message you intuitively feel each number and colour brings to you. Perhaps not all the messages from these cards will resonate with your personal journey/question, so take with you what FEELS right and leave the rest behind. Hope you will find that some, if not all, of these cards will speak their magical language to you. I always pull the fairies' cards around new and full moons, so stay tuned! Enjoy and thank you fairy much for joining!

Love to all !
Deck used: The Fairies' Oracle by Brian Froud/ Jessica Macbeth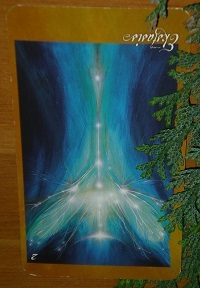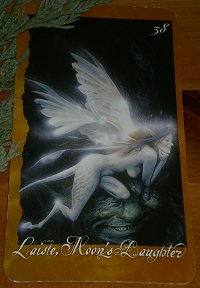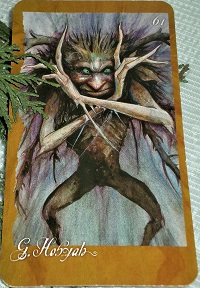 Here we have Ekstasis (2) in reverse showing up to tell us that it is ALWAYS best to just allow ourselves to feel exactly what we feel in the area of grief and sorrow. Instead of disregarding our emotions, putting them aside "to deal with another day/time" we would benefit the most if we dealt with them whenever they are actually felt. Among other things this card says: "If life is not going as you wish, LIVE IT!". So, what ever we may be going through - both individually and collectively - right now when reading this message, we are here reminded of the ebb and flow we all experience to some degree through out our lives. By checking in on our emotions when we become aware of them, we learn lessons on a deeper level, because we have acknowledged that these emotions also make a crucial part of life. After the rain comes the sun; after a stormy emotional time of grief, joy will expand again in our hearts, make us smile in sweet remembrance of the hard times where we made it through.

The two last cards to show up in this reading are Laiste, Moon's Daughter (38) along with G. Hobyah (61) to hold our hand while we are going through strong emotional times and to illuminate the darker path as assurance of the fact that all our hard work is NOT experienced for nothing. Laiste is our light torch, spiritual guide, enlightenment in reaching our higher self; our not-yet-realized cosmic wisdom. The moon is all about emotions, habits, the divine feminine, shadow sides, the water element, electro-magnetic energy and our soul and dreams. So, Laiste is coming in to let us know that our perception of things is getting clearer and making more sense – we are becoming more clairvoyant and more able to use our psychic abilities. Connecting with Laiste can also bring forth psychic dreams, forelighting the future and illumining the present. Things begin to fall into place and situations that we have categorized as "impartial" or "random" now take form as a pattern that make sense to us. G. Hobyah entering the stage with Laiste is drawing our attention to remain sharp sighted while these emotions of grief and sorrow are taking place in our lives. To distinguish between what is scary as a REAL fear/challenge and what is NOT; meaning that we cannot project old patterns of fear dwelling in the past in to where we are NOW in life. G. Hobyah is inviting us to finally face those fears we have dragged with us, confront them honestly, so that we can gain a clear view of what we REALLY are challenged by in life. These false fears resolved will make us stronger as we move ahead on our life path. Dive deep in/with your emotions, go with the flow, feel everything that comes up in the process as you know that by facing that you will end up with blue skies, new dawns, visions and wisdom to show you EXACTLY what to do and where to go next on your soul journey. These fairies can always be called upon for assistance – they simply love to play a part in that process. We are all precious – they seem to think that too!
If you wish the soft, gentle music of the fairies to assist you while reading or meditating on the messages just received, you will find it here. Enjoy!

🌍~ Other Fairies' Oracle Intuitive Timeless Readings You Might Find Interesting ~🌏
¤ Gather Up for a New Dawn, Let In the Magic of the Faun!
¤ Through the Waves Psychic Abilities Rise! Giving, Receiving...Setting No Price!
¤ Ask for Personal Advice and Guidance
¤ Through the Leaves Signs Will Show! Journeyman, Come into Flow!




🐘 🐁 🐬 ENERGIES OF THE ANIMALS: 🐢 🐈 🐋

These cards are pulled on October 23rd 2020, so if this specific date/time of month or year holds any personal meaning to you, please add it to the messages coming through from the animal cards as well. Likewise, if the numbers and colours on the cards hold specific personal meanings to you take that in too to apply the messages. My readings are focused on the energies coming through to us as a collective and so the reading may not resonate with your personal journey in details – take with you what feels inspirational and right. Leave the rest behind. I hope you will find some support and joy in the animal messages for the purpose of leading your life in a direction of living more purposefully, using ALL of your skills, gifts, and true potential.

Love to all !
Decks used: The Spirit Animal Oracle by Colette Baron-Reid; The Wild Unknown Tarot by Kim Krans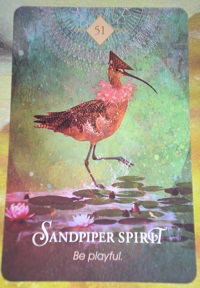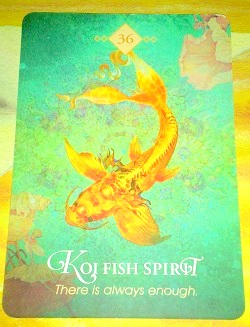 First, we have the Sand piper coming out with a message from Spirit saying "Be playful". It's kindly asking us to step lightly and not to be afraid to take new steps on our life path which is blossoming in front of us as we tackle along and as we open ourselves to new possibilities dancing to the sound of our own beak – stepping out with focused curiosity and no regards to what might happen next. The second card coming out is Koi fish "There will always be enough". This golden looking agile fish with its long tail is encouraging us to keep going in the direction we wish to as it promises us abundance. It's also telling us that we in our core are abundant with a lot to give and present to the world – we are golden rock stars! We just have to believe it and take action on it.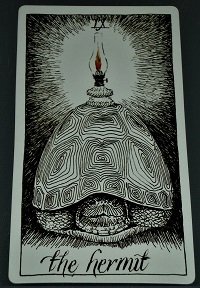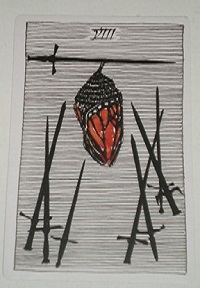 To find out more details and information we will now turn to the wild unknown tarot. The energies of the Hermit are showing up here through the symbolism of the turtle – slow and steady wins the race, right?... The body of the turtle symbolizing Mother Earth/Gaia/Sophia and the shield symbolizing the Universe. The Hermit is the counselor, healer, expert and also a sign of prudence. The Hermit heals through his/her contact with the divine that is merging with his/her eternal flame or original spark of light from God/Source/Spirit. This energy will show up in the life area of your mentality, thoughts, ideas, visions, communication, and psychology where Eight of Swords is showing us that we might have felt imprisoned, left to self-defense or self-treatment. But there seems to be a shift here where we begin to move out of that state of mind. Perhaps some of you may need a counselor of some kind to assist you through whatever you are facing in this particular area of life. Or perhaps for others of you, YOU are the healer, counselor, experts, etc. in this area of life stepping out now as such. I like how these two cards both hold a lamp/torch, because this is underlining the fact that we now begin a new journey where we burn through with our perception of things. It is as if OUR visions and mentality are setting things straight. Our point of view or of "seeing" how things truly are is quite unique. We cannot be afraid of using that gift of power. "Speak your mind" is what I feel these cards are guiding us to do.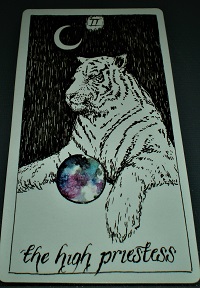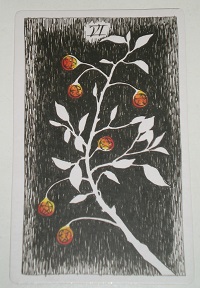 At the bottom of the decks we find the High Priestess from the major arcana's along with Six of Pentacles from the minor arcana's. This is letting us know that overall – whatever the situation might be for us – we would gain a lot from listening to our intuition; to the studies we might have done on our own life experiences; to have self-discipline to go deeper as this will assist us in our material life such as accommodation, finances, job opportunities, etc. Things in our physical surroundings. Actually, Six of Pentacles is talking about profitable gifts and balance, so me might wish to be more open to what we feel guided to do from our higher self, through our intuition when it comes to how we go about our daily material life and our daily routines. The Pentacles are referring to the earth signs of Taurus/Virgo/Capricorn in the astrology, so if you feel any special connection to one or more of these astrological signs I highly recommend you to look further into that. Again, go with your intuition. Now, back to the Koi fish that is assuring us that there will always be enough as long as we just keep listening to our intuition, and I would like to add our dreams, divine feminine, shadow sides, habits, and soul while we also have the representation of the Moon in the picture of the High Priestess. Let us work our lights. Let us step out as the visionaries we truly are as we trust that our path in life will always guarantee safety, protection, and balance…and, oh yes, let's not forget the Sand piper that shows us the importance of having fun, of playing and to be "lightful" as we move along!



Wish to support my work? Please paypal me - Thank you...
You can also follow me on Twitter here...


FAIR USE NOTICE: We are making this material available in our efforts to advance understanding of environmental, political, human rights, economic, democracy, scientific, and social justice issues, etc. We believe this constitutes a "fair use" of any such copyrighted material as provided for in section 107 of the US Copyright Law. In accordance with Title 17 U.S.C. Section 107, the material on this site is distributed without profit to those who have expressed a prior interest in receiving the included information for research and educational purposes.



COPYRIGHT 2019 HerLanguage